Christophe Cotten-Valois, CEO of Welcome Max
Christophe Cotten-Valois, the pioneer of user experience in France, has always been immersed in design culture. Having started at IBM E-Business Services where he worked notably on the first French portals, Christophe became a freelance consultant in the 2000s and has been involved in various start-ups, large groups and consulting firms. Since 2011, Christophe has served as CEO of Welcome Max, a new concept consulting agency dedicated to the design experience.
The metaverse has become a real trending topic for several months. What do you think are the main reasons for enthusiasm about this universe?
This craze is a certain fashion influence right now, because the uses in the metaverse remain unclear. As with augmented reality, the potential of virtual reality seems enormous, but the uses remain to be discovered. Many will chip their teeth and it seems likely that the use will be in an unexpected place, as is the case for augmented reality that is primarily used today in training and industry.
In my opinion, we are in the midst of speculation on the continuity of NFTs. Players don't really find their accounts there. For the general public, the potential uses are still "obsessed"… Brands are surfing with great fanfare to be present in this new paradigm as the second class seems to dictate the rules.
What is driving brands to really launch into the Metaverse? What are the main opportunities they see there?
Currently, brands are trying to pre-empt the topic, to colonize this pristine space: a new El Dorado in a nutshell. Certainly, brands should experiment with the topic to find their trends and choose the right themes, the right platform, and the right audience. For this, they are absolutely right to exploit the dimension of the event, which is conducive to the uproar, with disposable products. As for the benefit of the brand, we'll see later.
Opportunities will mainly be to push the boundaries of reality, to do what we can't really do in reality, like Amazon or Alibaba who abolish the boundaries of time and space who have managed to do what was not possible until then.
The innovations that work are surprising because it is often not the visual presentation that makes the difference but the benefit the user or market players get. Neither Google nor Facebook nor Amazon are examples of visual creativity. Currently, speculators are trying to create the market. But brands will have to really innovate, because they are showing up right now. The virtual museum will likely be the first opportunity for brands like Virtual Gucci Garden. The virtual museum has been explored in virtual reality by great brands like Dior (via Monochrome Agency). But in terms of experience and interaction, it still disappoints in my view.
Do you have examples of projects in the Metaverse that have been done by brands recently?
There is a construction of the Manchester City stadium. Once the real stadium is equipped with cameras, we will probably be able to follow the match there from all angles, as if we were there. Mais, sans l'ambiance des matchs, la meilleure vue n'est-elle pas celle de l'équipe de la réalisation qui sait switcher de price de vue au cœur de l'action pour nous faire vivre le moment sous son meilleur angle, without doing anything? Outside of the matches themselves, for fans, visiting the stadium is the Holy Grail, and they are able to pay multiple times to get to it virtually.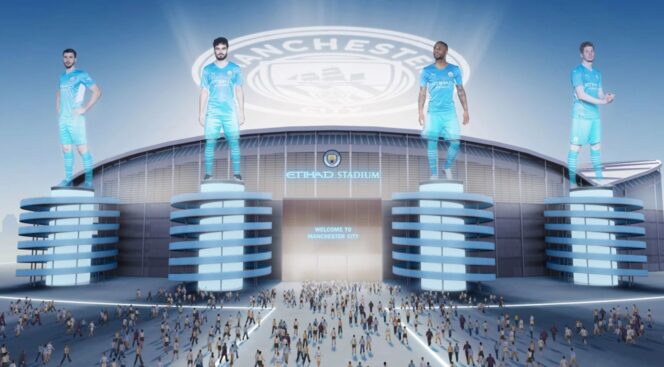 The commitment is that Manchester City is approaching Tezos (blockchain) to launch collectible NFT projects that should be successful in the community, and may not be too expensive. This point is important to create continuous use with those of the mobile in terms of personalization: shells, ringtones, themes and applications are not expensive and allow these audiences to consume spontaneously for pleasure.
On the subject of the metaverse, the second degree also seems recurring, like the Heineken campaign* and virtual beer that is also present in reality. So ironic or first class? We also see that stars like Snoop Dogg know how to play on this discrepancy to generate buzz. Is this the pattern that will appear? It's hard to say, anyway we're talking about.
* Alcohol abuse is dangerous to your health, take it in moderation.
What are the main obstacles that can hold brands back from embarking on the metaverse?
call up : At the moment, if you are not a fan of Minecraft, you will quickly find yourself in rather "cheap" universes, which have nothing to envy in video games. Even if the web offers beautiful 3D rendering, the metaverse will be another budget column supplemented by media. And the bill would be "salty" because we combine digital challenges: vision, creativity, technical limitations, user experience, e-commerce… In short, a huge challenge for organizations.
Accessibility and Interoperability: Today, browsing the web with our devices is already a war of the worlds, with Google, Apple, Meta, etc. Try to keep its users captive to the ownership of the UX. Logins, currencies, payment platforms, contact lists, avatars, article repositories, and chats are closed to the masses. Switching from one device to another can be a hurdle. So, wait until you have to call while wearing a bulky (and uncomfortable?) headphone. So this raises the question about interoperability: Will the Gucci bag, which is sold more expensive than the real one on Roblox, be compatible with the Meta universe? I wish it was the owner.
What are the elements that could hinder the experiences they will provide there?
Do brands looking to deliver a solid customer experience have the budget to thrive on Metaverse? In the same way that Facebook chatbots remain very limited in terms of service, will the platforms provide us with tools or templates for 3D-modeled places that we can customize?
Do brands want to find themselves again in a modular world, or will the network be open and therefore tech-standard compliant, making it possible to 'run' experiences designed elsewhere? It would then be a kind of immersive shopping center. But this is still a technical challenge. In terms of futurology, Luc Besson's Valerian gives us an idea of ​​what it might look like: It was one of the biggest productions of all time and yet a commercial failure.